On my way to the station I passed this house made from cheap nylon bags.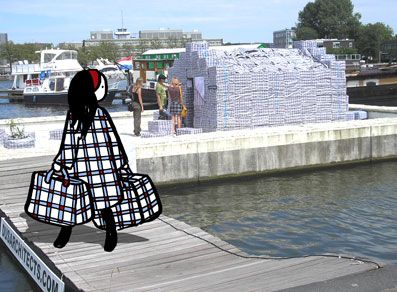 I have to admit I wasn't that impressed because I once saw a big art exhibition
in Hong Kong completely dedicated to them.
But it was fun to suddenly run into an art project, and this turned out to be a
fun project as well: The house is actually a 'hotel' where guests can stay one
night under the condition that they somehow contribute to the installation.
I loved the idea of a mini garden in a bag. But the sign puzzled me.
'Snippendaaltuin' might look dutch but is completely gibberish.
It turned out that this was the contribution of two guests from New York,
who were hoping that 'snippendaaltuin' was correct dutch for herb garden.
Alas no, that's 'kruidentuin', but if I had a snippendaaltuin I'd stick with the
name!
Here's the site of DUS architects, who set this up.