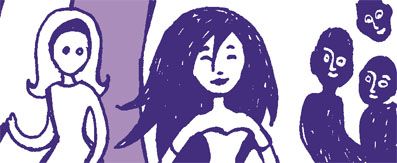 In 2006 I made a few comics for the online magazine Cutie (no longer excisting).
At the time I was known for my drawn diary comics, but I wanted to draw a few
fictional stories for a change. Because I didn't want people to think they might be
autobiographical after all, I chose the pseudonym Libra (my zodiac sign).
I only made three comics under this name and a few illustrations, and until today
only a few people know that Libra was me.
Click here to read the first Libra comic.
I'll post the other two later on.