Another booksigning this Friday!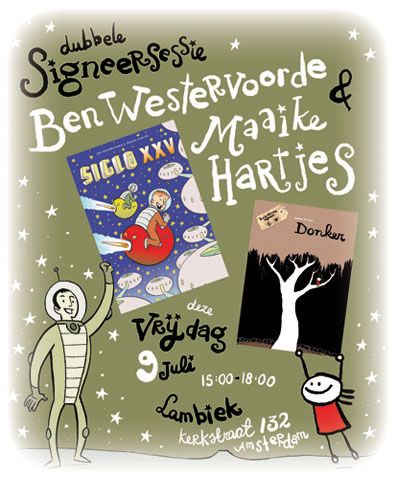 Ben Westervoorde and I will be signing our new books at famous comicstore
Lambiek
.
This will be a very special signing, since Ben and I worked together on BOTH books!
'SigloXXV' is a funny children's comic about a boy's adventures on a space station.
It has been published in National Geographic Junior. Ben made the drawings and I wrote
most of the stories!
'Donker' is my latest comicdiary about South Africa. Here I also spent some time with Ben
and his family, who own a house near Durban. Ben and his wife Lynette taught me many
things about South Africa and play a big role in my book.
So come visit us at Lambiek this Friday afternoon and you can get BOTH of us to sign them!