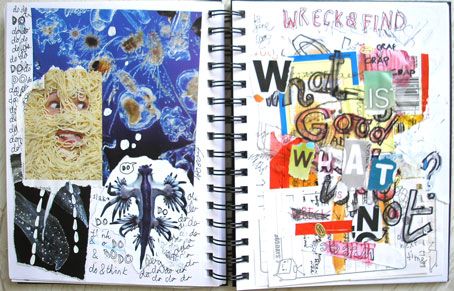 My messed up pages.
Lately I've been reading about the work of writer/illustrator Keri Smith. She's made a book with the funny title 'Wreck this journal' and that's exactly what you should do with the book. It's filled with exercises like 'create a non stop line' or 'climb up high, drop the journal' that will help people to get inspiration and most of all experience different ways of working and messing something up on purpose.
I don't really need her tips to find inspiration (always enough) but as an illustrator and comicartist I'm bound by deadlines and easily get stuck in a comfortzone of sketches and controlled endresults. So from time to time I need to force myself to let go, to take that risk to fail, to mess up. It will get me further.
You need to fail to succeed, that's what Keri probably would write, if she didn't already.
'Wreck this journal' site
I'm happy with this one.