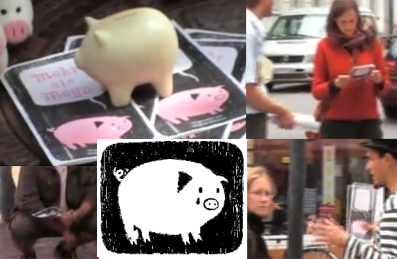 Isn't he cute, my little crying pig? It's an icon for A SEED, an organisation
that (among other things) protests against enormous pigstables in Holland
and Germany. They asked me to make some illustrations for a new flyer,
but I decided to redesign the whole flyer while I was at it. :-P
This was one of the most fun projects I worked on lately!
I tried to keep it simple and friendly, and I gave it a 50's style feel with a
rough woodblock print look.
I haven't even seen the finished flyer myself (the organisation had to hurry
to Germany to protest) but I spotted the above pics, of people holding my
flyer, online. I can't wait to get one myself!
The pig on the front is now used for posters and as a logo as well.