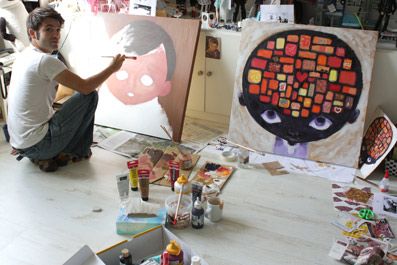 Today my good friend Flo came to my house to work on the paintings for the
Belgian exhibition.
Here are the finished paintings with their smaller 'originals'!
Flo made a parody on the notorious
crying gipsy boy
, and I made a big
sister for my 'brainchild'. It started to get dark when we were finished, so
I'll post a better (and bigger) picture of my painting tomorrow.
The paintings will be exhibited during 'Leuven stript', a Comicfestival in Leuven.
More information can be found here
(but sorry, only in Dutch).