We're currently staying with a friend in Ikebukuro (Tokyo).
'Fukuro' means 'owl' in Japanese, and although the character of 'fukuro' in
Ikebukuro has a different meaning, they decided to use it as some kind of
mascot. You can spot a lot of pictures and statues of owls here.
This is a cookie!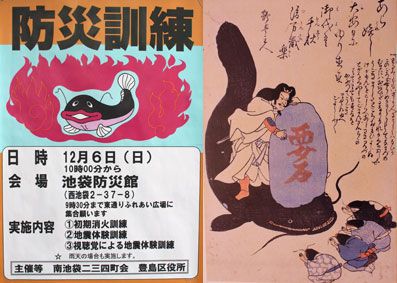 Today I saw the poster at the left on the street.
A black fish surrounded by flames might be a weird sight, but it's a catfish,
the Japanese symbol of earthquakes. So I assume the poster is about fire
prevention (fires caused by earthquakes).
On the right is a namazu-e (catfish-woodblockprint ). People used to believe
these prints would protect them from harm.
(Nowadays they probably put more faith in the warning posters.)