My illustration has been published, so now I can share it with you;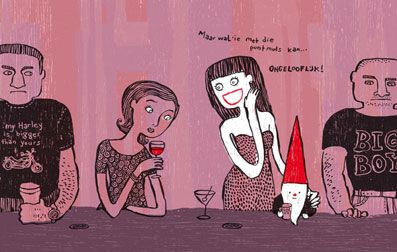 *Click here for a bigger version*
The woman says :"But what he can do with that pointy hat... UNBELIEVABLE!"
(it was for an article about men with small... )
Here's the sketch that I showed before on this blog. It changed a lot but the
colour scheme stayed the same, more or less. I never make very detailed
sketches, I just start drawing and if it turns out bad, I draw it again!
I just finished another illustration in a similar style, for a different magazine.
It's really nice to get assignments for another style than my usual one! :-)