All the snow is gone and I miss it...
So here's a pic I made last week with some weird snowball animal.
Meanwhile I've been really busy with work and books.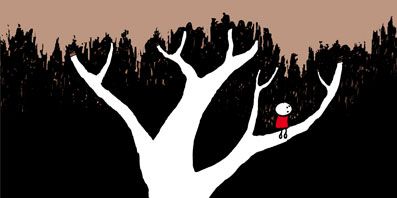 Here's a sneak preview of the cover of my next book about my trip to South Africa.
The title will be 'Donker' (=Dark) and it will be released in June by Oog&Blik/De Bezige Bij.
And there's more news;
Remember the photoshoot I did with my drawings?
The photo itself turned out so nice that they want to put it on the Dutch promotion
poster for
Ficomic
! I'll be hanging all over Barcelona in May!
However, they chose a photo where my face is covered by my hair and arms, so no
one will recognise me. :-P I hope to attend the festival as well.