Right now I'm working on another commercial assignment; a logo and a series of
illustrations for potato recipes.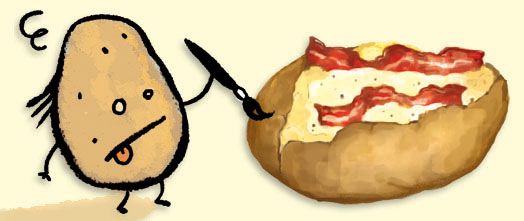 It's actually a lot of fun, but after painting this baked potato with bacon three times
I start to feel a bit.... strange?
Meanwhile a lot has happened:
I got elected as chairlady of the
BNS
, Beroepsvereniging Nederlandse Stripmakers
(Union of Dutch Comicartists). I'll hold that position together with Hanco Kolk.
Then I just found out that my style got ripped by a company. I'm not amused.
(But more about that later.)
And I got interviewed for both the
IKON radio
and newspaper het Parool.
(the Parool interview will be published -edit- later this week)
Oh yeah, and then of course my new book 'Gruwelijk!' has been released, and I'll
be signing it at comic festival
De Stripdagen
in Gorinchem, on March the 12th and 13th.
The BNS also organizes a comic auction on the 12th at 16:00 and I've donated two original
comic pages. Starting bid is €100 for both, and all the money from this auction will be used
to finance the 2nd edition of the free BNS comic newspaper.
Read more about it here!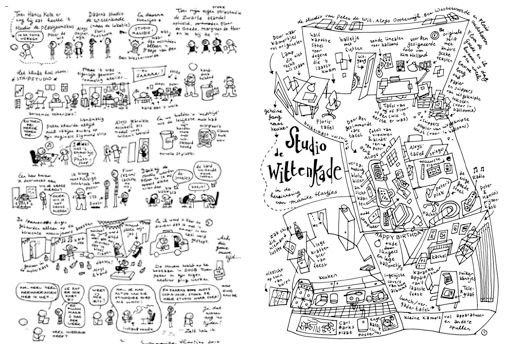 These are both A4 size, and although they might look like prints, I swear they're original
drawings. I just don't sketch much.
My new book will also be part of an exhibition called 'de Stripverwachting' (the Comic 'Expectation'')
of new, and soon-to-be-released-comicbooks from BNS members, also shown on de Stripdagen.
But for the next days I'll just be busy with potatoes!