Usually I just show my own stuff here, but this time I want to introduce you to the art of
Dace Sietina
. I discovered her work when I was a judge in the Benelux Comic Contest,
the comic she sent in
was my personal favorite (unfortunately the other judges didn't agree).
So I was excited when I heard she had an exhibition at
gallery/comicstore Lambiek.
I have a feeling that people will either hate her work or absolutely love it, and personally I fall in
the 2nd category. ;-) It's weird and fresh, sometimes even gets close to being ugly but still manages
to stay interesting and entertaining. Er... sorry, I'm not an art critic!
Anyway, I loved it and for the first time in my life I felt like buying something, BUT...
The big one was her latest, most expensive and personal favorite work, inspired by Basquiat.
It was my personal favorite as well, but unfortunately Arthur Griffioen beat me to buying it! :-(
But the good news is that Arthur runs the artprint company
Griffioen Grafiek
and plans to turn
the drawing into an exclusive print! (And he promised me one, yeah! :-D )
The smaller drawing at the left is based upon the sign that hangs from the Lambiek store.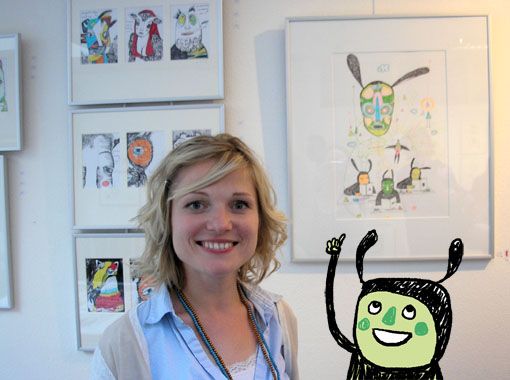 But that didn't stop me from buying; I bought this one with the 'rabbit' figures! Dace poses next to it.
And then I also bought the smaller drawing at the far right from the first pic. Seriously, this is the first
time ever that I bought art! But as you can see I'm already getting inspired by Dace's work!
So go visit her
exhibtion in Amsterdam
, it's still there for 1,5 months!
(but if you want to buy something you better hurry up! Prices vary between €50 and €500)
And this is Dace Sietina's website.
Oh and did you know that Griffioen Grafiek made a print of my work too, many, many years ago?
Somehow it's still not sold out, and they're just €25 a piece (and they're huuuuge!)
(see here at the year 1998)