Meanwhile I devoted all my spare time to an important project;
A book about the illustration business! Of course there are already a zillion books about
this subject, but the problem is that too many illustrators don't bother to read them
(because well, they tend to be pretty boring...).
So that's where I hope to make a change, because I will not write boring stories on how
to do business... I will DRAW them!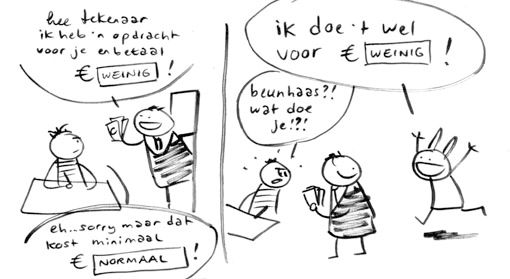 Above a fast sketch. At the moment I'm still gathering information and tips.
But here's a sample of a finished page (not final though) that I'd like to share with you:
The book is aimed at starting and wannebe illustrators but I hope professional illustrators will
pick up a few tips as well. This might take a while to finish, but I hope to show you some more
pages every now and then.
Oh, and the title will probably be 'Tekeningen, Rekeningen' (drawings, bills').