This is a drawing on a canvas that I made a few years ago. It was sold on an auction
for a good cause so I don't own the original anymore, but I still own the copyrights on
this pic (so excuse me for the awful copyright-thing I put on it).
Even though this little Maaike-figure looks so angry, she's very loved. So loved that
I've seen her as an illustration on several blogs, I had to write an angry letter to make
a company stop using her as their Twitter-avatar, and I even spotted her on a site that
offered her as a mobile phone wallpaper-download.
In fact she's so loved that you can now get a t-shirt with her... or uhm... HIM:
This was for sale on the site of t-shirt print shop
Spreadshirt
. It was 'designed' by
a certain M.de Waard from Rosmalen who works under the name
'shirtdesigns
.
And this person didn't stop after one design....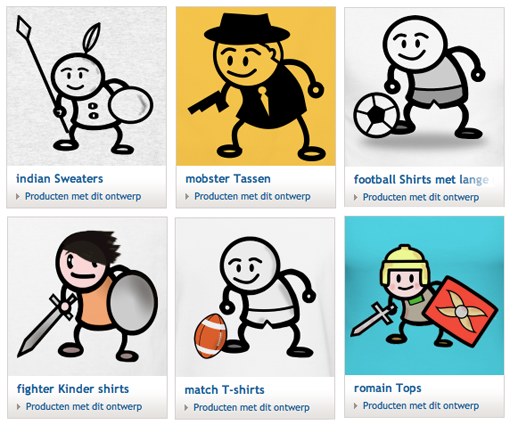 They even turned my angry figure into... a happy one!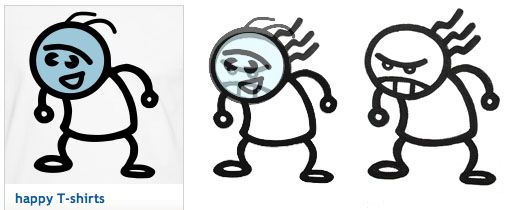 Left pic: copy Middle: Perfect overlap! Right: original
(Yeah, I guess I'd also look more sadly confused than happy if I had a blue head.)
Thank god this M. de Waard is so talentless that all their designs are butt ugly and I
can't imagine anyone spending money on these shirts.
And I contacted Spreadshirts right away, they were very helpful and immediately
removed all the designs from the sites! :-)
(P.S. I'm okay with people using my drawings for their personal blogs, as long as it's
not commercial and they give me credit.)