About two years ago
I designed and illustrated a flyer for ASEED
, an organisation that
protested against mega stables for pigs.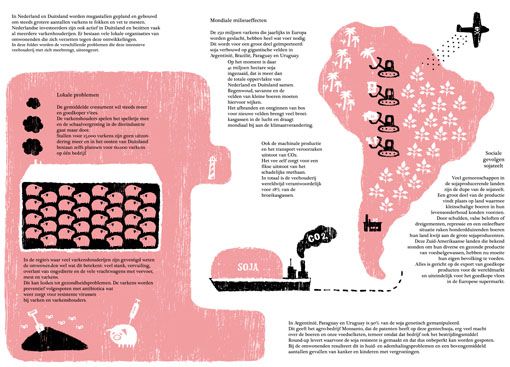 This is part of the inside of the final A3 flyer. Since I thought it was a fun project and wanted to support
their cause I didn't charge them for my work.
It was great fun to make this flyer. But it was less fun when I walked on the street and suddenly spotted
my design on a poster and a sticker! Though well, it's not my design anymore... since someone heavily
mutilated it!
The poster was gone before I could take a photo, but I managed to peal off a sticker from a lamppost.
I just hope they didn't pay a designer for this mess. They did a bad trace, scribbled some lines and added
stock illustrations in a different style. And so my design was turned into something hideous, thanks a lot!
So well, I'm shocked and angry. Even though I gave them my designs for free, that doesn't mean
they can do whatever they want with it and change it like this. That's just very disrespectful.
Note: Gifsoja.nl is organised partly by ASEED, so it's not like someone stole my work. They just re-used it.
I'm not posting this to hurt Gifsoja, but I wanted to tell everyone who works with illustrators; Don't
ever mess with illustrations in any way without asking permission. Respect our art.
Update: I contacted them and they apologised. I'm still a bit angry but most of all I hope the 'designer' won't
ever do this again. Not to my work or to anyone else's.